A good graphic design enhances a brand's identity, trust, and visibility. The better the visibility, the better the sales. According to the study, 92.6% of people believe visual dimensions influence their purchasing decisions.
Graphic design is an important element of your marketing strategy. Not only does it leave a positive impression on your audience, but it also reveals a lot about your product.
Modern graphic design goes beyond pens, paper, and sketchbooks. It does not require a lot of skill, either. A few easy-to-use tools to create designs, edit layouts, and upscale images to proper resolution can help you create amazing graphics for free.
Here we've compiled a list of 6 free online graphic design tools in 2022:
1. Canva
Canva is a widely popular and easy-to-use online graphic design tool. It has over 250,000 free templates. Plus, there are more than 100 design types, including social media, presentations, videos, whiteboards, and print designs.
Features
With Canva, you can create new designs using over 1 million high-resolution free images and graphics.
Its built-in editor is free to use and has all the necessary add-ons like templates, elements, text, photos, audio, video, background, charts, and color palettes to enhance your design.
While creating a design on Canva, you can also upload photos, videos, and audio files from your desktop, Google Drive, Dropbox, Facebook, or Instagram.
Canva has also introduced Smartmockup, which enables you to turn your images into product mockups. It helps showcase your product in a real environment, which is particularly beneficial for social media ad campaigns.
It allows the downloading and sharing of designs for free. You can also invite others to collaborate on a design.
With Canva's mobile app, you can design and create on the go.
Its free version gives you cloud storage of 5 GB.
Canva also has a Pro version with more advanced features like more templates and images, a background remover, a resizer, brand kits, and 1 TB of cloud storage.
2. Adobe Express
Adobe Express is another famous online graphic design tool that offers thousands of free templates, design assets, and fonts.
Features
Adobe Express allows access to a limited collection of Adobe stock photos.
It has templates for various design types, such as Instagram posts, brochures, posters, presentations, logos, resumes, flyers, and book covers.
You can save your project to Google Drive as well as download it once you are done. You can also invite other team members to collaborate.
You can work on Adobe Express via its mobile application.
Its free version gives you access to 2GB of cloud storage.
The paid plan of Adobe Express features 100 GB of cloud storage and the sharing of designs across all Creative Cloud Libraries.
3. Pixlr

Pixlr is an online editor and graphic design software that lets you edit, design, and create visual assets using free templates or your own files.
Features
Pixlr has a black, easy-to-use interface that works on all browsers and screen sizes.
It has two free tools: X and E. Pixlr X is a simple editor where you get basic editing features like adding layers, transforming the image, and adding animation, text, or element. Pixlr E has a more diverse range of tools like lasso effect, cut out, liquify, heal, clone, eraser, gradient, color replace, and marquee select.
In addition to the regular download feature, you can also download the entire Pixlr working project in a PXZ format.
Creating graphics is made easier with its multi-screen compatibility without compromising the quality of the images.
Although Pixlr is a great design tool for individuals, it also offers subscription plans with access to advanced features like Photomash, BG Remover, and an ad-free experience.
4. Inkscape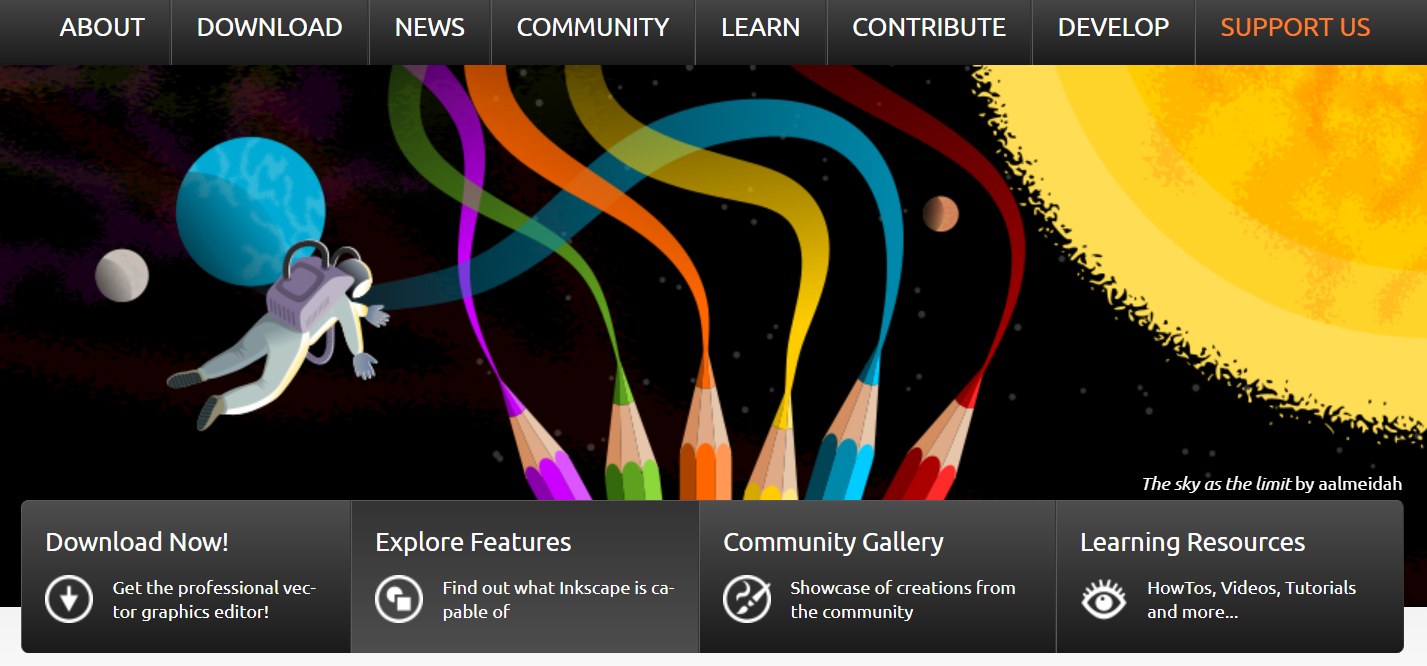 Inkscape is an online tool that is commonly known for its high-quality professional vector graphics. You can easily create vectors, logos, illustrations, and drawings free of charge.
Features
Inkscape has some amazingly distinctive editing features like mirror symmetry, color gradients, B splines, envelopes and perspectives, and selection sets. These tools give your designs a realistic view, finer pigmentation, and interactive effects.
It has modern and complex features like node editing, alpha blending, and simple path manipulation, which gives it a competitive edge over other free tools.
Due to its functionality, it is considered a good free start for beginners to use paid software like Adobe Illustrator in the future.
5. Fotor

Fotor is a free online tool that offers photo editing and graphic design all in one application. Over 100,000 free design templates are available for you to edit and customize to create your own graphics.
Features
The website has two separate pages for online photo editing and graphic design.
Fotor's interface for the graphic designer tool is similar to Canva's. You can customize templates, upload your images, add elements, and change fonts and backgrounds.
It lets you share your created designs via WhatsApp. You can also use the Fotor Chrome Extension to drag any image you like onto a webpage and use it in your design.
It allows you to share your work on social media.
You can download the files in JPG and PNG format. Fotor offers Pro and Pro+ plans for HDR images and other advanced features at reasonable prices.
6. Figma

Figma is a free online design platform where people interact, collaborate, and design. It can be used for all sorts of projects, from wireframing websites to designing mobile app interfaces and prototyping designs.
Features
Figma's simple interface makes it easy to use for all levels of graphic designers.
It has an all-in-one design platform and an online whiteboard for teams. Both products have their own particular features.
Figma's design platform has vector networking, an arc tool, and open-type font features that make designing easy, even for beginners.
Its files are autosaved. You never have to worry about losing them.
You can also share them with anyone with a live link.
It is particularly an ideal choice for design team collaborations. That's another reason for its popularity, as it's considered a collaborative UI design tool.
Figma's free version pretty much has everything. The paid subscriptions give access to more premium assets related to collaborating and handing off.
Conclusion
A brand's graphic design is as crucial as its product and website content. Not only does graphic design establish a brand's identity, but it also makes a website user-friendly. The above-mentioned tools offer reliable solutions to enhance the design of your marketing materials. They are budget-friendly and help you achieve a basic design with minimal experience.
But remember, there are no replacements for a professional graphic designer. Get in touch with our web design team at Peppermonkey Media for a personalized and competitive layout today.